Level 0 Requirements
Project Lykoi shall be a glider that reaches 100,000 feet (30.5 km) of altitude.
The payload shall return by glider to a location specified by the team.
The Project shall have cameras that will record/take images of the flight.
The glider shall be designed so that data can be recovered from the payload on landing.
---
Strawman Mission Architecture
Communications
Communicate with Payload

Use a primary GPS tracking chip & antenna compatible with a microprocessor to track the payload
Use microprocessor to format data into APRS
Transmit the APRS data to nearby towers
Use high-speed data-link from payload to collect untransmitted data to mobile station

Ground Station

Use a computer with APRS decoding software to decode the APRS data
Construct a directional antenna that will be used to receive the data transmitted

Use secondary GPS tracker to locate the HAB after it has landed

Allows us to more accurately determine the location of the payload once it approaches touchdown

Ye Effortless Extraction Transmitter (YEET) System

Separate system to allow rapid transfer of all data stored on the SD card in the event that the glider cannot be recovered
Software & Payload
Cameras

GoPro- take pictures/videos, store via SD card (256 GB)

Flight controller

Try to build one (Raspberry Pi). If no progress is made by a deadline, purchase one

Raspberry Pi

Determine when and where to drop glider, possible flight controller

Servos

Control the control surfaces, release system and possible parachute (if needed)

Power Supply

Power all electronic components

GPS/Gyro

Seperate from Comms, communicate with Raspberry Pi
Gyro will communicate orientation of glider with Raspberry Pi
Flight Systems
Launch Location Ideas

A farm in Sunman, IN (about 50 min away)

Recovery Location Ideas

Within a 15 mi radius of the launch sight

Mission Altitude

≈100,000 ft max altitude about 95,000ft when glider is released on the way up
Parachute will deploy after 100,000 ft if glider controls are not operational

Mission Duration

Total Time ≈ 5-7 hours
1 hour of prep and takeoff
2 - 4 hours flight time
2 hours recovery
---
Data Plan Flow Diagram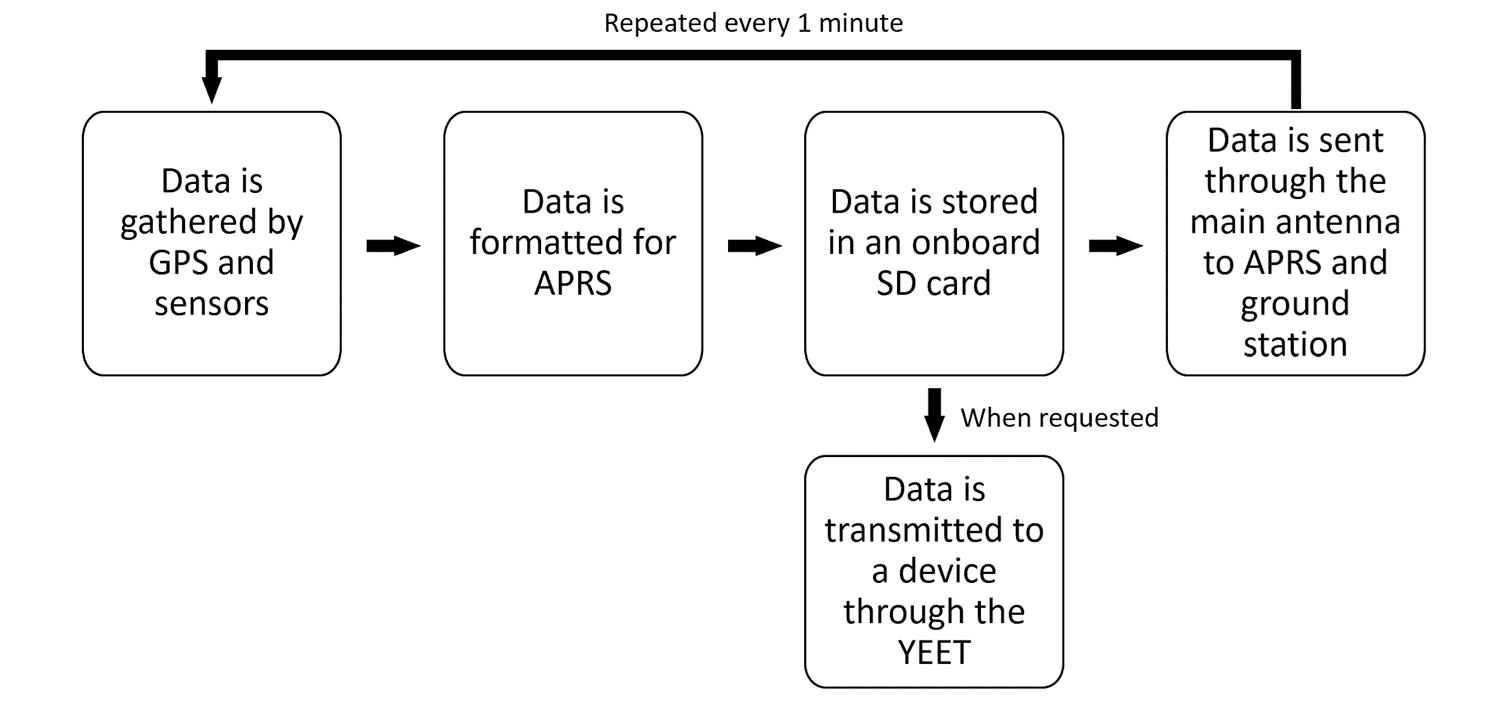 ---
Operational Concept Diagram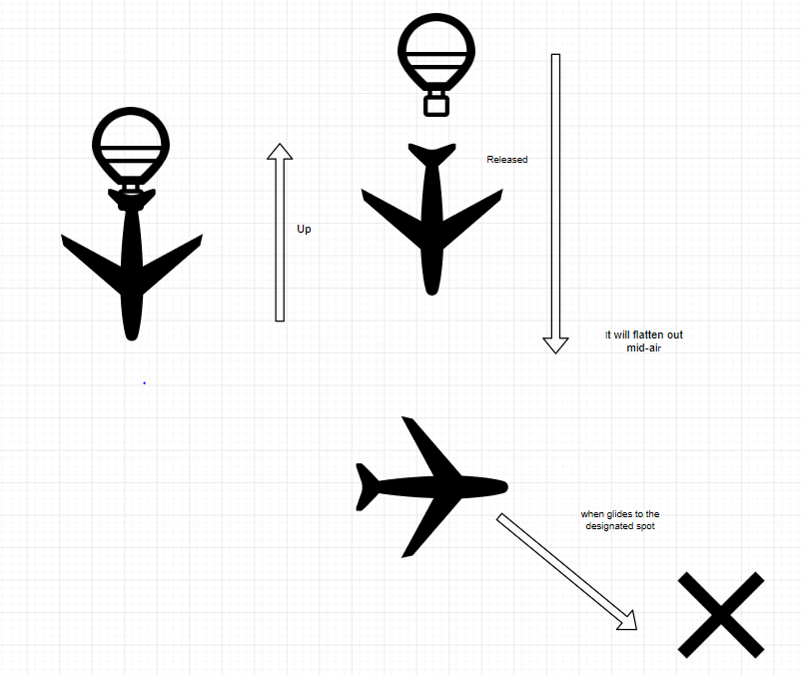 ---
Level 1 Requirements
Communications
Our Misiion Shall:
Transmit data over APRS every 1 minute and be received by retrieved on APRS.fi
Transmit data every 1 minute and be received directly by a ground station.
Store all information on an 32 GB SD card on the payload.
Locate the payload once it has landed using a secondary GPS tracking system.
Include a high frequency Ye Effortless Extraction Transmitter (YEET) to collect data from the glider in the event that it cannot be retrieved after landing.
Software & Payload
Our Misiion Shall:
Construct and program a flight controller with a Raspberry Pi 4 to gather data about orientation and position of the glider using a gyroscope and GPS.
Use the position and orientation data gathered to steer the glider via servo motors to the position specified by the group before flight.
Video record the entire duration of the flight using a GoPro at 1080p resolution.
Provide enough power to the onboard electronic components for amount of hours planned for the mission +3hrs (9 hrs total) via a battery pack.
Flight Systems
Our Misiion Shall:
Reach an altitude of around 100,000 ft by filling a balloon with X ft^3 of helium; where X is determined by balloon size, weather conditions, and payload size.
Measure the positive lift using a spring scale
Release a glider at a designated altitude with hooks
Point one camera forwards (at the glider) and the other camera will down
Salvage the internal data and continue monitoring the location by absorbing outward shocks
---
Schedule
MCR: 10/3/2019
TDR: 11/18/2019
Launch: February/March of 2020
Gantt Chart